Caitlin Clark's Buzzer-Beater Lifts Iowa Hawkeyes over No. 2 Indiana Hoosiers
By
Jreasn
on Feb 27, 2023 in
College Sports News
-
Comments Off

on Caitlin Clark's Buzzer-Beater Lifts Iowa Hawkeyes over No. 2 Indiana Hoosiers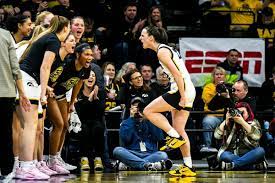 Caitlin Clark, the Iowa Hawkeyes' sensational sophomore guard, did it again. With 1.1 seconds remaining in regulation, Clark launched a buzzer-beating 3-pointer that gave Iowa a stunning 86-85 victory over the No. 2-ranked Indiana Hoosiers on Sunday at Carver-Hawkeye Arena. Clark finished with 34 points, nine assists, and nine rebounds. Her incredible game-winning shot capped off an already emotional day in Iowa City, as the Hawkeyes honored their two seniors, Monika Czinano and McKenna Warnock, in their final home game.
Clark's heroics led Iowa to several achievements. The victory avenged Iowa's loss to Indiana on February 9, helped the Hawkeyes bounce back from a 28-point loss at the Maryland Terrapins on February 22, and gave the Hawkeyes the No. 2 seed behind Indiana in this week's Big Ten tournament in Minneapolis. It was also a fantastic finish for ESPN's "College GameDay," which was held in Iowa City. The Hawkeyes' victory was fueled by Clark's scoring, as she contributed a layup to close the first quarter, a jump shot just before halftime, free throws to end the third, and the game-winning 3.
Clark, who is known for "shooting from the logo," led Division I women's basketball in points per game and assists per game last season. She currently ranks in the top three in scoring average and leads in assists average. Her latest heroics further cemented her case for national player of the year.
Clark's game-winning shot was set up on a play that Iowa coach Lisa Bluder said she got from watching the WNBA champion Las Vegas Aces over the summer. "Those are the situations I would put myself in with my two brothers out in the driveway," Clark said. "That's still what I do when I come into the gym and shoot by myself. Those are the situations you dream of. I'm lucky enough to be able to do it for this team, in front of 15,000 people who want to come and scream about it."
Clark has become a fan favorite both at Carver-Hawkeye Arena and on the road. The game on Sunday was sold out weeks ahead of time, and Indiana's regular-season finale against Iowa was also sold out. Although the loss has no impact on Indiana's postseason position, as they already have the Big Ten regular-season championship and No. 1 seed in the league tournament wrapped up, the Hoosiers really wanted this victory.
On Friday in Minneapolis, Indiana will face the winner of the Nebraska-Michigan State game, while Iowa meets the winner of Wisconsin-Purdue. Maryland is the No. 3 seed, and the Ohio State Buckeyes are No. 4. Indiana is seeking the program's second Big Ten tournament title, and Iowa is hoping to capture its fifth.
The Hawkeyes were projected as a No. 3 seed in Thursday's NCAA top-16 seeding reveal, but their victory over Indiana likely moved them up a seed line. With an overall record of 23-6, Iowa has two wins over No. 2-ranked teams this season. The Hawkeyes beat the Hoosiers last year in the tournament final, and if they meet again this year, it will be hard for that game to be any more dramatic than Sunday's was. It was senior day for Iowa, which started its 83rd game with Clark, Kate Martin, and Gabbie Marshall—the most for any women's starting five in the past