Odell Beckham Jr. Shines in Baltimore Ravens' Minicamp Debut
By
Jreasn
on Jun 14, 2023 in
NFL News
-
Comments Off

on Odell Beckham Jr. Shines in Baltimore Ravens' Minicamp Debut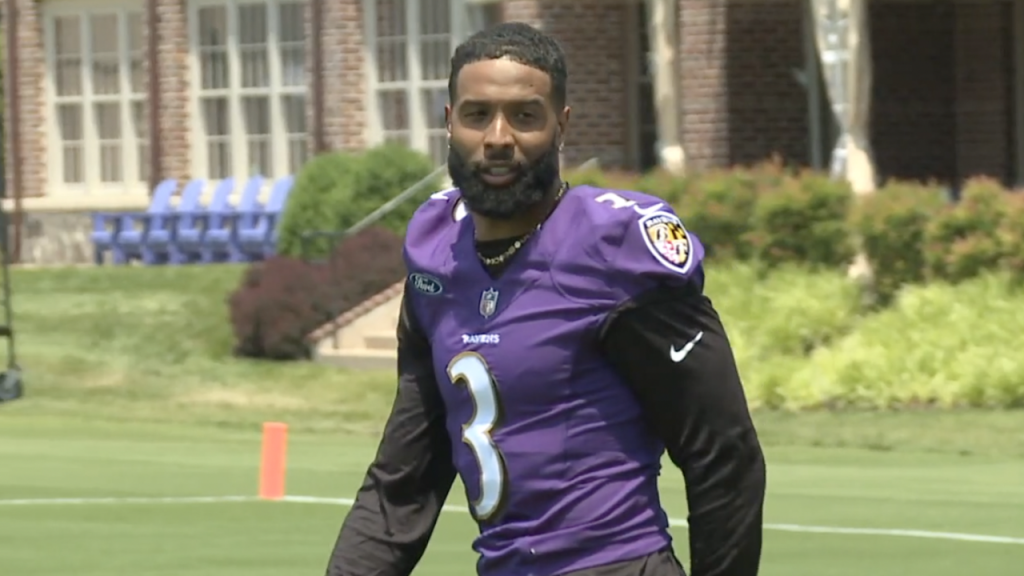 In a highly anticipated moment for both fans and teammates, Odell Beckham Jr., the electrifying wide receiver, made his long-awaited debut with the Baltimore Ravens during minicamp. This much-awaited event has sent shockwaves through the NFL community, as Beckham's presence in purple and black signifies a potential game-changer for the Ravens' offense.
During the minicamp, Beckham wasted no time in showcasing his exceptional skills. From the moment he stepped onto the field, his athleticism and playmaking ability were evident. With his trademark agility and speed, Beckham effortlessly maneuvered past defenders, leaving them in awe. The chemistry between Beckham and his new teammates seemed surprisingly strong, considering the limited time they have spent together.
Beckham's arrival has brought a renewed sense of excitement and optimism to the Ravens' organization. The team's coaching staff and players alike have expressed their enthusiasm for having such a dynamic player on their roster. Lamar Jackson, the Ravens' star quarterback, spoke highly of Beckham's talent and work ethic, emphasizing the potential impact he can have on the team's aerial attack.
The addition of Beckham also provides Baltimore with a valuable weapon to complement their already formidable offensive lineup. With his ability to stretch the field and make contested catches, he adds an extra dimension to the Ravens' passing game. This development could prove to be a significant challenge for opposing defenses, who must now contend with an even more potent offensive unit.
Beyond the on-field implications, Beckham's arrival has generated a tremendous buzz in the city of Baltimore. Fans are eagerly anticipating the regular season, eager to witness the impact of their new superstar. Ticket sales have soared, and the demand for merchandise bearing Beckham's name and number has skyrocketed. The "OBJ effect" is already evident, as the Ravens' fan base rallies around their new star player.
While it's important to remember that minicamp is only a glimpse into what lies ahead, Beckham's performance has undoubtedly raised expectations for the upcoming season. His blend of speed, agility, and exceptional ball skills make him a force to be reckoned with in the Ravens' offense. If he can maintain his health and build on the chemistry he's already established with his teammates, Beckham could prove to be the missing piece that propels Baltimore towards a deep playoff run.
In conclusion, Odell Beckham Jr.'s highly anticipated debut with the Baltimore Ravens during minicamp has exceeded expectations. His exceptional skills, combined with the excitement surrounding his arrival, have injected new life into the team and their fan base. As the regular season approaches, all eyes will be on Beckham as he looks to make a lasting impact and solidify his place as a key contributor to the Ravens' success.