Mac McClung Takes NBA Slam Dunk Contest by Storm with Record-Breaking Performance
By
Jreasn
on Feb 19, 2023 in
NBA News
-
Comments Off

on Mac McClung Takes NBA Slam Dunk Contest by Storm with Record-Breaking Performance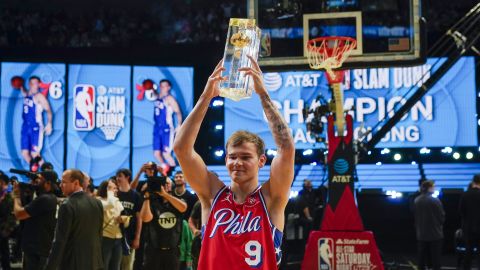 Mac McClung has always been an underdog, but he proved himself on Saturday night at the NBA All-Star slam dunk contest. With only two games of NBA experience under his belt, McClung signed a two-way contract with the Philadelphia 76ers earlier in the week, and he dominated the dunk contest with a near-perfect performance.
Despite being listed at a generous 6-foot-2 and 185 pounds, McClung gained an online following in high school for YouTube compilations of his dunks that seemed otherworldly. He said watching the classic showdown between Zach LaVine and Aaron Gordon in the 2016 dunk contest made him dream about being a part of it someday.
On Saturday night, McClung opened the contest with 50s across the board as he took the ball from a friend sitting on another friend's shoulders and tapped it against the backboard before putting it through the hoop. He then completed a whirling helicopter, two-handed, 360-degree stuff and earned a 49.8 from the judges.
For his final flourish, McClung put on his Gate City (Va.) high school uniform over his red Sixers jersey and threw down a 540-degree two-handed dunk to run away with the trophy. The judges all gave him a 50 once again.
After his final dunk, McClung was surrounded by a euphoric group of All-Stars in attendance, stunned by what they just witnessed. Julius "Dr. J" Erving presented the trophy to McClung at center court. The NBA redesigned the dunk contest trophy this year and named it after the Sixers legend.
McClung's victory was even more impressive considering he edged out Trey Murphy III of the New Orleans Pelicans in the final round. Jericho Sims of the New York Knicks and Kenyon Martin Jr. of the Houston Rockets bowed out after the first round.
"It kind of feels, ever since the beginning, I was the underdog," McClung said. "… Just proving yourself right, not others wrong, it brings a little more satisfaction."
McClung's hard work and determination have paid off, and he has shown that he is more than just a dunker. He will rejoin the 76ers next week and look to crack coach Doc Rivers' rotation as the team prepares for the playoffs.
"I'm not really worried what other people think, good or bad, I'm staying the course," McClung said when asked about his breakout night. "My goal is to make an impact in the NBA, and I'm just going to keep working until that happens."
McClung's victory has brought him the recognition he deserves, and he has shown that with hard work and perseverance, anything is possible. He has become an inspiration for many young basketball players who dream of making it big in the NBA. As McClung said, "If you manifest and put your mind to it, you can literally make your life and reinvent yourself every day."