Game-Worn Michael Jordan Flu Game Sneakers Sells For $1.38 Million at Auction
By
Jreasn
on Jun 15, 2023 in
NBA News
-
Comments Off

on Game-Worn Michael Jordan Flu Game Sneakers Sells For $1.38 Million at Auction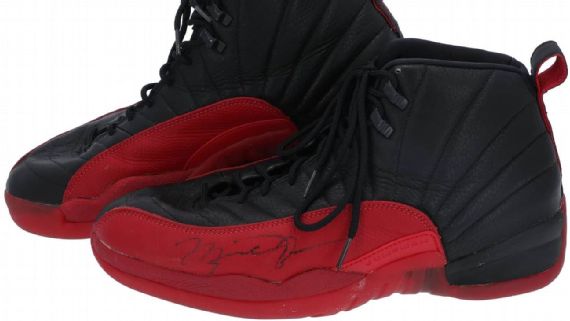 In a remarkable turn of events, a pair of iconic sneakers worn by basketball legend Michael Jordan during his infamous "flu game" have recently made headlines by fetching an astonishing $1.38 million at auction. The sneakers, which are steeped in history and have become legendary in the basketball world, captivated sports enthusiasts and collectors alike, resulting in an intense bidding war that shattered previous records.
The "flu game," a historic moment during the 1997 NBA Finals, saw Jordan overcome severe illness to lead the Chicago Bulls to a critical victory against the Utah Jazz. With his sheer determination and unmatched skills, Jordan played through a high fever, nausea, and exhaustion, leaving an indelible mark on basketball history.
The sneakers, a remarkable memento from that fateful game, became a symbol of Jordan's resilience and extraordinary performance. Crafted with meticulous attention to detail, the shoes boast a distinctive design, featuring the signature Jumpman logo and the iconic black and red color scheme that has come to be associated with Jordan's legacy.
The record-breaking auction drew the attention of passionate collectors and fans, fueling speculation about the final price the historic sneakers would command. Ultimately, a bidding war ensued, resulting in a jaw-dropping sale of $1.38 million, a figure that shattered previous records for basketball memorabilia.
This extraordinary sale highlights not only the enduring appeal of Michael Jordan as one of the greatest athletes of all time but also the remarkable value collectors place on cherished sports artifacts. These sneakers, more than just athletic footwear, embody a moment in time, an emblem of resilience and triumph in the face of adversity.
As the new owner basks in the glory of possessing such an iconic piece of basketball history, the staggering sale sets a new benchmark for the value of sports memorabilia. With each passing auction, the world eagerly awaits which prized artifact will capture the imagination of collectors and rewrite the record books once again.
So, it is with awe and anticipation that we bid farewell to these legendary sneakers, as they embark on a new journey, forever etched in the annals of sporting greatness.